Contact:
amybeam@yahoo.com
Phone: +1 240-696-1905
Mobile: 0090 537 502 6683 (June-Sept)
Skype: amyLbeam
---
Mount Ararat Difficulty
This is a non-technical climb at 30 to 45 degrees. You must be in very good physical fitness with very good heart and lung endurance. The summit is lower than Mount Kilimanjaro, but because of incline and cold weather, it is a harder climb.
---
Mount Ararat Weather

June 1 - September 15
summer climbing season

July 15 - September 5
best climbing; warm and dry

October 1 -February 29
Blizzards may delay climbing. Only the fearless or foolish climb in these months.

March and April
best ski months

May and June
highest rain and hail
At camp 2, even in August, temperatures turn extremely cold after sunset, and you crawl into your sleeping bag to arise at 1 AM for the summit climb. The last 400 meters are snow- and ice-covered year-round requiring crampons. Winds can be 40 knots or more on the summit, making it bitterly cold even in August. You must dress in layers to keep warm, including your hands.

Mount Ararat, April 30, 2012
---

Mount Ararat in June, snow line at 3800 meters
---

Mount Ararat in August, driest month, meltback to 4600m
---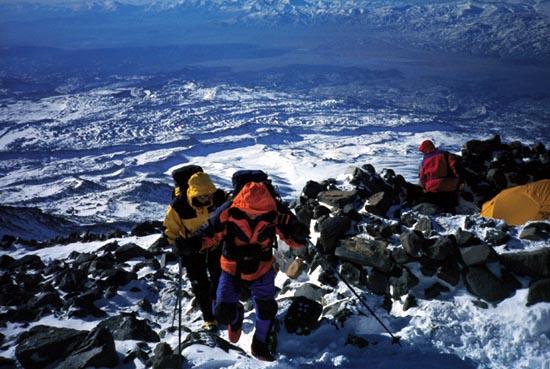 March - April best spring skiing on Mount Ararat
---
2013 Full Moon Dates
Sunday, Jan 27, 05:38
Monday, Feb 25, 21:26
Wednesday, Mar 27, 10:27
Thursday, Apr 25, 21:57 (eclipse)
Saturday, May 25, 06:25
Sunday, Jun 23, 13:32
Monday, Jul 22, 20:15
Wednesday, Aug 21, 03:44
Thursday, Sep 19, 13:12
Saturday, Oct 19, 01:37
Sunday, Nov 17, 16:15
Tuesday, Dec 17, 10:28


Full moon setting in shadow of Mount Ararat
---
REQUIRED Gear

sleeping bag (-15C or -20C)


backpack or soft-sided duffle bag for horse to carry


small day pack you carry


sturdy trekking shoes


waterproof rigid boots for crampons on summit


gaiters (recommended)


jacket


waterproof heavy coat with hood


waterproof pants


thermal under clothes


waterproof poncho


waterproof ski gloves


warm glove liners


hat for sun protection


cotton neckscarf


warm wool hat


wool scarf or neck guard


facemask (optional)


2 pairs thick wool socks


2 pairs inner socks


2 water bottles (aluminum or hard plastic)


ski goggles (optional)

dark reflective sunglasses


headlamp for summit


mini pocket flashlight


whistle for emergency


crampons


walking poles


#30+ sunscreen


chap stick or lip balm


tissue packs


ear plugs to keep gnats out


water purification tablets


mini-first aid kit for pain, swelling, head cold, nose congestion, sore throat, infection, insect bites, diarrhea, constipation, sunburn, cuts, blisters, bad knees
---
---
Photo stop at Muradiye Waterfalls.
---

Horses carry gear, food, backpacks.
---

Visit in nomad summer tent.
---

Mount Ararat Camp 1 at 3200m
---

Mount Ararat summit is snow-covered.
---

View Kurdish kilims and Persian carpets. Don't go home without one!
---
Mount Ararat History
Mount Ararat is the highest point in Turkey, rising in isolation above the surrounding plains and valleys and providing a panoramic view of Armenia, Iran, and Turkey. Ararat is a dormant volcano with no crater. It has not erupted in historic time. The most recent eruption was probably in the last 10,000 years. However, an earthquake rocked the mountain in 1840, burying a chapel, convent, and village on the slopes in Ahora Gorge. Today nomadic Kurds reside on the mountain from June 1 to September 1 with their herds of cattle and sheep. A smaller cone, Little Ararat (3896 meters) rises just southeast of the main peak.
---
The Search for Noah's Ark continues to attract archeologists, geologists, and historians from around the world. According to Old Testament legend, Noah's Ark came to rest on the "Mountains of Ararat" following the Great Flood.

Raider's of the Lost Past: The Quest for Noah's Ark features the American team. It was shown on Yesterday TV in UK, Nov. 2012. Amy Beam and Richard Bright are interviewed in it. Download the full-length 51-minute movie at WorldMediaRights.com.

The Noah's Ark Hoax
We are not associated with the Chinese-Turkish-Dutch-American hoax and Noah's Ark Ministries International (NAMI) who claim to have discovered Noah's Ark. We did have the misfortune to have the American Joel Klenck as one of our climbing customers in 2011. He raised the standard for astonishing deception adding to the growing body of "pseudo-scientific" lies causing so much damage to honest archeology. The Director of Archeology at Harvard University states there is little they can do to control what a graduate publishes after he leaves Harvard.


Mt. Ararat Slide Show
---
2013 Dates to Climb Mount Ararat (Agri Dagi)
Groups of 6 or more may choose your own dates at group rates.
Groups of fewer than 6 may also choose your own dates, but the total price is based on 6 people.
Tour leaders may receive a substantial discount for groups of 6 or more.
Individuals may join an all-inclusive Mount Ararat Summit 7-Day public tour (code 7VRA). Arrive at Van airport on one of the following dates and begin climbing the next day:
| | |
| --- | --- |
| Monday, | April 22, 2013 (full moon trek) |
| Wednesday, | May 1, 2013 |
| Thursday, | June 20, 2013 (full moon trek) |
| Saturday, | July 20, 2013 (full moon trek) |
| Tuesday, | July 30, 2013 |
| Sunday, | August 18, 2013 (full moon trek) |
| Friday, | August 30, 2013 |
| Thursday, | September 6, 2013 |
---
Mount Ararat Summit 7-Day Tour (7VRA)
Day 1 - Lake Van Tour

We meet you at Van airport at 9 AM and take you to Van Castle, a visit to a carpet factory to watch women weaving carpets followed by lunch on the shore of Lake Van, a boat trip to Akdamar Island with a famous 10th century church with exquisite stone carvings. Enjoy a scenic 3-hour drive to Dogubayazit, stopping en route at magnificent Muradiye Waterfalls for photos then passing volcanic Mount Tendurek. Arrive to Dogubeyazit 3-star hotel followed by orientation meeting, equipment check, and dinner.

Day 2 - Camp 1

After breakfast in hotel, leave unnecessary items locked in storage room, drive to starting point at 2250m on Mount Ararat. Unload gear and trek 3 – 4 hours to base camp at 3200m. Horses will carry your backpacks and gear. You carry your own small day pack with lunch packet. Stop for tea and photos in a nomad tent along the way. Enjoy a hot dinner. Overnight at camp 1.


Day 3 - Camp 2

After breakfast, take down tents, pack, and climb 3 – 4 hours to camp 2 at 4200m; transportation of equipment by horses. Enjoy hot dinner and go to sleep early at camp 2.


Day 4 - Mount Ararat Summit

Wake up at 1 AM, drink tea/coffee, eat, fill thermos with hot tea, depart from camp 2 at 2 AM. Climb 5-7 hours to Mount Ararat summit at 5137 meters for sunrise. Return to camp 2, eat, rest, pack gear for horses. Return to camp 1 for the night. (This may also be used as a reserve day if altitude sickness or bad weather requires two nights at camp 2.)

Day 5 - Hot Springs

After breakfast at camp 1, pack equipment for horses and descend to 2250m to meet minibus for transfer to hotel. Have shower and short rest. Men may go to barber for shave and neck massage. Drive to hot springs to relax in thermal pool in private room. Return to Dogubeyazit for celebration dinner and Turkish deserts. Receive climbing certificates. End with night caps on the rooftop terrace of your hotel looking at Mount Ararat.

Day 6 - Agri Tour

Dogubeyazit/Agri regional tour of Işhak Paşa Palace (closed on Mondays), Tomb of Ahmed-I Hani (famous scholar and poet), Urartian Castle, old Bayazit city archeological ruins, mountain drive to Noah's Ark National park (Durupinar), lunch of homemade cheese and bread, grilled chicken and tomato kebob, and watermelon with a family in a Kurdish village or nomad tent. Return to town for an hour of shopping, transfer to hotel for packing and shower. Farewell dinner. End the tour with night caps on the rooftop terrace of your hotel or visit cafe for hookah smoking.


Day 7 - Agri Departure

Breakfast in hotel; drive 1.5 hours to Agri airport for 13:40 departure.
---
Mount Ararat Summit 7-Day Tour Includes:
3 nights in 3-star hotel with breakfast
Van airport pickup
return transfer to Agri airport
Lake Van cultural tour
Dogubeyazit cultural tour
Visit to hot springs and relaxing in thermal pool in private room
all admission fees
all meals both on and off Mount Ararat
transportation to and from Mount Ararat, 2250m starting point
3 nights and 4 days on Mount Ararat
acclimatization day only if necessary at camp 2
government climbing permit
mountaineer guide
cook
food
water, coffee, tea, juice
porter and horse to transport backpack and gear
horses to transport food and cooking gas
kitchen tent at camps 1 and 2
dining tent at camp 1
tent shared by 2
mat
crampons
climbing certificate
Upgrades are available for a surcharge:
single tent
horse to ride
private guide from camp 2 to summit
return to town ahead of group
NOT included:
airline tickets
sleeping bag
clothing
boots
skis
walking sticks
headlamp
alcoholic or soft drinks (buy or bring your own)
medicine
tips
---
Mount Ararat Trek All-Inclusive Tours 2013
Contact us for prices. We specialize in all-inclusive tours, taking you to the summit of Mount Ararat. We package tours that combine the following modules. Point to each photo:
| | | |
| --- | --- | --- |
| Van - Lake Van Tour | Nem - Nemrut Crater | Ara - Mount Ararat Summit |
| Agri - Dogubeyazit/Agri Tour | Kars - Ani Ruins Tour | Ist - Istanbul Self-guided Tour |
Point to each tour code to see popup window with itinerary.
Tour Code
Description - All tours are all-inclusive except 6BUDGET and 6BUDGET+1
Camp nights
Hotel nights
*6BUDGET
Ararat - Includes airport transfers, transport to/from Ararat, guide, permits
5
0
*6BUDGET+1
Van-Ara - Includes airport transfers, Lake Van tour, transport to/from Ararat, guide, permits, cooking gas, horses for gas and food
5
0
6ARASKI
(March-April)
Agri-Ararat SKI
3
2
6PRPSKI
(March-April)
Ani-Agri-Ararat SKI
3
2
6VRA

Van-Ara
3
2
7VRA
(standard tour)
Van-Ara-Agri
3
3
8VNRA
Van-Nem-Ara-Agri
4
3
8VRAK
Van-Ara-Agri-Kars
3
4
9VNRAK
Van-Nem-Ara-Agri-Kars
4
4
10IVRAI
Ist-Van-Ara-Agri-Ist
3
5
11IVRAKI
Ist-Van-Ara-Agri-Kars-Ist
3
7
12IVNRAKI
Ist-Van-Nem-Ara-Agri-Kars-Ist
4
7
Government Climbing Permits
Mount Ararat is a controlled military zone. For your safety, the government of Turkey requires all climbers on Ararat to be led by a Turkish licensed guide. It also requires special permits to climb Mount Ararat. We get the permit for you. It costs $50 USD and is included in our tour prices.
---
Prices
Please contact us for prices. We offer 20% to 50% discounts for groups. We work closely with travel agencies, climbing clubs, and organizations to customize all-inclusive Mount Ararat package tours and support your marketing efforts. In addition to Mount Ararat summits, we can create a tour of all of eastern Turkey for groups of 6 or more people. For group discounts please include your contact information and travel agency or group name.
---
Reservations
Please contact us to begin planning your trip. If you would like us to call you, please include your phone number. When you have decided on your tour program, we will email you a reservation document that includes day-by-day itinerary, dates, price, services, and payment instructions.
In order to complete your reservation, we will need the following for each person:
a copy of passport photo page (or Turkish ID)
full name
address
email address (for photo sharing and follow-up evaluation)
mobile phone (set to roaming for Turkey arrival and emergency on mountain)
profession
emergency contact information
blood type (optional for your benefit, but accidents can happen)
flight arrival and departure information
We do not share or sell your information to anyone.
---
Payments
To confirm your reservation, guarantee the price, and begin the permit application process, a 50% payment is required. Payments are only refunded (minus expenses already incurred) if you cancel at least 6 weeks before your start date or if the government closes the mountain (highly unlikely) during your scheduled trek. People may be added to a reservation or dates may be changed without penalty. Payments may be made online with PayPal or by bank transfer. Full payment must be received two weeks before arrival or a $100 USD late fee will be applied. We handle people, not money when you arrive.
Allow one month for the climbing permit. Make your reservation months in advance because airline seats are limited and hotels are full in the summer.